Frank's notes: A running diary of how this got started and each significant next step
March 2003: Renewing our friendship and getting started
One can't interact with Gene without working and if you have learned your lesson well, you understand the fun of work. While the standard educational paradigm creates a boundary between learning and work, Gene learns and teaches (works) simultaneously, and during the process, mental images begin to appear which convey more than just the words. We are building a dynamic book of essays, mostly Gene's but a few that I played a role in. These deal primarily with failures in our educational system and our slow adaptation to the global connectivity resulting from the Internet.
Maybe these essays will speak to you in a meaningful way. If you manage to click any of the links, then we would like to hear from you - your thoughts and your critiques. Send email to Frank and I shall forward.
This current episode started when Josh and I (Frank) made our way to the Stead-palace-by-the-lake over a March weekend where we found John, hard at work keeping Gene pointed in the right direction. As you can see, John has heard more than his share of "Steadisms". The 4 of us talked about many things - but one thing kept coming to the top of the list: Clearly this is the age of the internet and a new era of communication, interaction and collaboration. Gene has managed to create the ideal environment for testing whether anyone actually reads stuff on the internet and is able to send email or write into a web log. His lake palace is sufficiently difficult to find (see GPS tracks) that he has managed to pretty well isolate himself and Evelyn (and John and Marilyn). Consequently we are looking for new ways to put Gene in the middle of a group of junior learners while at the same time, he keeps Evelyn happy. We have all the essential features of a nickle experiment - Gene bets that I cannot produce a web site that generates a single e-mail to him. So its up to you to shift from your passive mode of surfing the internet to your active mode and click on the above email link and start a conversation.
To start the converstaion, visit our essays - that we believe are absolutely non-controversial. What do you think? In addition, I have started building a learning center. The idea is to use photographs that I have made to ignite the curiosity of a junior learner and, if the curiosity is great enough, they might chase links to serious science.
I enjoy making photos of insects and the immediate feedback from a digital camera (did I get the composition or not?). We have built a small web insect zoo, again, to capture the imagination of junior learners. These collections contain links to other sites, to orther "for the curious" pages we have built. Its another step in our building an internet-centric learning paradigm.
July 2003: A short history of our Internet adventures
A few have asked how Gene's web site happened. It started with the above visit that Josh and I made. During that conversation, Gene voiced his frustration with generating a meaningful dialog with respect to medical education. When I returned home, I made a simple web page of our photos - that was all. Then Gene and I talked a couple of times about his essays and what to do. They were in various forms ranging from type written manuscripts to reprints. I typed the first few. Not a very interesting way to spend an evening. We explored getting a scanner and type recognition software. Lucy convinced me that with Gene's handicap with email and computers, that this would increase her load and she was in the off-loading business, not the on-loading business. So I asked here at MUSC and found that the College of Health Professions had a scanner and software and a capable assistant (Brigitte) that introduced me to scanning and cleaning up.
While we were doing the scanning, I started building several rooms to Gene's web-house. I added a "My Story", "My Thoughts", "Thoughts of Others". I learned from my IT Lab guys how to make menu bars and add a bit of color to an otherwise dull web site. Then Gene could not remember the URL (http://monitor.admin.musc.edu/~cfs/stead) and asked what could be done. He wanted to have EA Stead Jr. as his web site so we leased this domain name (easteadjr.org) and its brother (www.easteadjr.org) for the next 5 years.
Now we are struggling with how to increase the interaction between Gene and colleagues. Email has been a flop. So I'm trying a web log. Its a new technology for me, but with Google I was able to locate a few programs and am installing them and looking to see which fits our bill. (Bloxsom seems to be the best place to start learning this technology. The results here are from tools we downloaded from from the Blosxom site
Why am I doing this? Starting my career at Duke with Gene as boss, with Henry MacIntosh, Joe Greenfield and Jim Wyngaarden - I discovered the fun of learning and open inquiry. I was infected for life. My father is in his late 80s, Ellen's mom is in her late 80s and her dad is in his mid 90s. We are learning about the needs of our parents, just as our kids escaped from home. So I'm learning from Gene, how to address some of the communication needs of our parents and possibly bring a bit of light into a life of less mobility.
August 7: Repetition is the first law of learning
Here we present you with another opportunity for improving your Internet memory. Because you have made it this far, you may search for anything that drives your curiosity. If you need a bit of help, then I suggest you search for: golden silk spider banana, a photo essay of spiders found in our garden. Again, you see that even amateurs can move to the top of the Google results. I encourage you to spend 30 minutes each day wandering the resources that Google offers, exploring your Internet memory and avoiding the forgetting curve. Surely, you must agree that retargeting energy traditionally spent memorizing and recalling results in more fun when used for thinking within our internet-centric context provided by the Internet and Google.
August 25: Web Rounds
Now that the web log (blog) is alive, and the Aug 21 Duke talk is behind us, we have a number of unanswered notes in Gene's blog. Gene and John are still learning how to read and comment. To move to the learning curve, we have suggested that Gene have "Web Rounds" every morning at 10am and use this time to use the blog, google and email. Now we'll see what the slope of learning is. The goal is to find a way that Gene is more or less self sufficient. With everyone's help and patience, we are getting closer to this goal.
September 6: Housestaff Page
Galen phoned today and we thought it would be interesting to build a page for the housestaff, where they can post stories (via Galen) and then we can make links to the web log for comments. Its an experiment with using stories as the basis for a dialog - and a way to keep Gene out of trouble. We'll see if this latest addition is worth a nickle.
September 14: Evelyn left Honolee
A physican and a non-physician. Both superb care givers.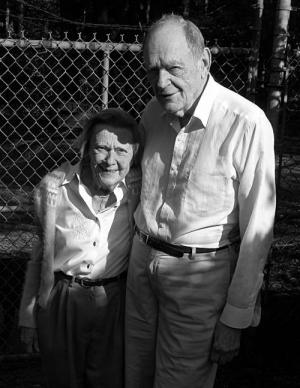 February 20: Removal of the web log
I initially thought that the web log would be a way to improve my interaction with many of you. I had poor typing skills, but Frank and John were willing assistants. Now its 8 months later, the data are in. The majority of visits to my web site are focused primarily on my home page and the housestaff page. Clearly, the blog idea never took hold. Rather than clutter the internet with an idea that never panned out - I've decided to remove the blog.
It is indeed a challange to find ways to maintain a dialog with friends and colleagues, past, present and potentially future. The Internet has provided some transient relief, but in the end, it is the visits to Honolee and phone calls that keep me going.
March 11: Transfer of http://easteadjr.org to Vanderbilt
Gene's web page started as an experiment - evolving through several variations until we finally found a format that was comfortable and useful. My (Frank) office will move 2 times within the next 6 months and because Gene's page runs on my desktop computer, it would clearly suffer. It seemed appropriate to find a more stable resting place, and Bill graciously offered to house it at Vanderbilt. We are in the testing phase now, but it appears that there are not any major challenges to overcome.
Just as a reminder of the utility of global connectivity offered by the Internet, the transfer and rebuilding and initial testing of the web site required a couple of hours with neither me nor Jerry Zhao putting this at the top of our list. It is simply wonderful when we can use the convenience of the Internet to build resources and then stabilize them.