We took the MRT from City Hall (Raffles City) to Changi Airport. Singapore has this wonderful policy - turn in your tranport card (EZlink) and they refund a $5 deposit AND the unused balance. We had enough for a couple of coka colas from the local 7-11 shop in the airport and a box of After 8 mints for Ellen.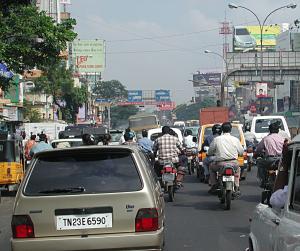 Chennai is best characterized as real life chaos. The story is still unfolding
We arrived in Chennai about 10pm from Singapore with a welcome drop in temperature. Raj met us - and straight away we were at the Madras club in our old room 7. Monday we started doing the essentials - purchasing a new SIM card for my GSM phone (AirTel); closing our Bank of America account (the BofA has decided to increase its profit margin by closing non-commercial account - I'll tell this delightful story below - a tale of economics with Mr. Srinivasin); opening a new account at another bank; and reconnecting with IIT.
First the pleasant surprises. The Singapore airport (Changi) has an active wireless system what was open for demonstration. So we were able to sit in one of their comfortable chairs, turn on the laptop and read email. The first one was from Raj - asking for our flight arrival info. I tried to phone Raj (I purchased a Sinapore Telecom SIM card) but there was insufficient balance. But I was able to send an SMS message to him which he received and replied with another SMS message. In the mean time, I found a shop with cards to "top up" my mobile phone credit - so I purchased this and phoned Raj to finalize the details. We flew to Madras and surprise of all surprises - my SingTel account still worked - with international roaming. Next surprise, when I purchased the AirTel SIM card - it included international SMS as well as international email. Moreover there was an email address (phone#@airtelchennai.com) so that our kids could send us email. So getting reconnected, by GSM mobile phone was really pleasant.
So here is the first day in Chennai (Madras) - riding on the back of Raj's motorcycle. These are street scenes just to give you a taste of this place - a variety of transport styles, police guys with large stomachs, and of course, her Bigness, the chief minister of Tamil Nadu. Perhaps the most interesting discovery, was to continue my study of video CDs. In Singapore, these were available for almost nothing - perhasp 50 cents to $1 - recent movies as well as a variety of Chinese and Indian presentations. I downloaded XINE while waiting for our flight at Changi airport, and found that xine (run as a linux application) could play these. So when I was downtown in Chennai - I looked for some more, to continue testing the price and availability. No region coding, no DSS, just pure entertainment for a reasonable price!
So we start with our place of staying, the Madras Club - started, as I understand, by the East India Tea Company in the mid 1800s. Here is the front and back - and the best part - probably the worlds only 500 meter track.
front and back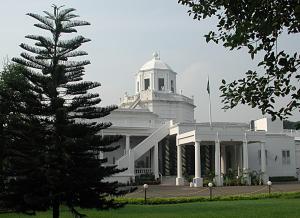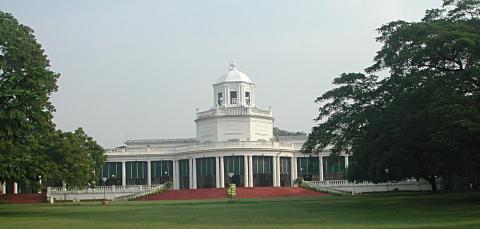 and my 500 meter track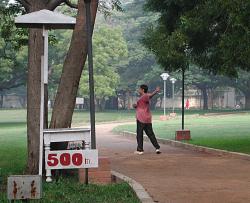 There is plenty of fresh food available - fresh chicken and fresh fruit. The small bananas are particularly tasty - about 20 cents/12.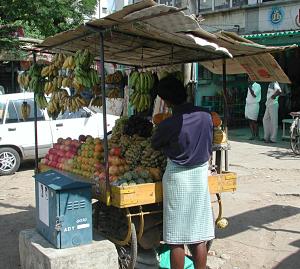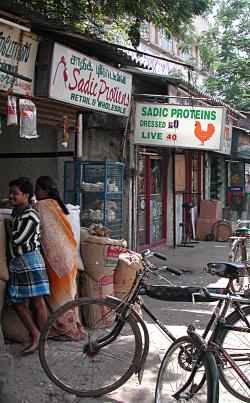 To get around - you have several possibilities - an autorickshaw, a machine of uncertain origin, usually equipped with bicycle horn, driver and a place to sit. You sit behind the driver, and if he has a friend, you listen to 100 km/hr nonstop Tamil.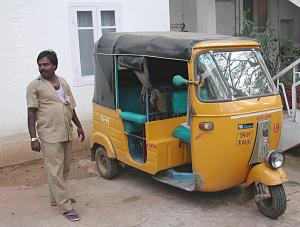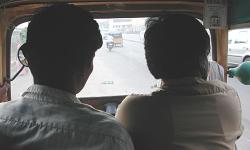 In addition, there is riding on a motorcycle, my preferred mode. Then there is the ancient tricycle, the real rickshaw.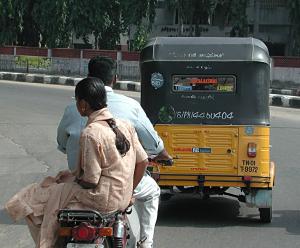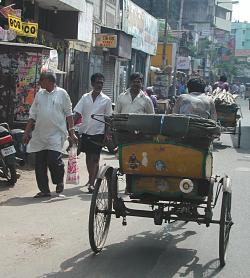 And there are newer and older variants for transport of "stuff"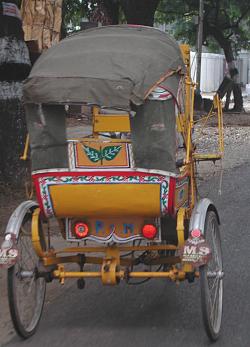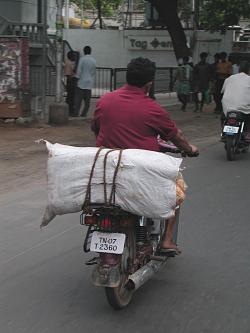 Then there is the trusty Ambassador - unchanged in styling since the British left in 1947 - a car that is virtually indestructable.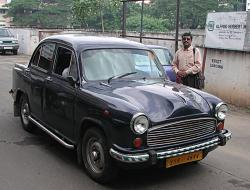 There is only one way to characterize traffic and driving in Madras (Chennai) - chaos. There are 3 rules for driving successfully:
1) don't collide with what is in front of you
2) don't think about what is happening behind you
3) and if "it" makes a noise louder than your vehicle's noise, then "it" has the right-of-way (the law of large noises).

India is multi-modal in its transport. Count all the different modes of transport in this pohtos - and note the discipline, orderly flow of traffic and pedestrians and animals.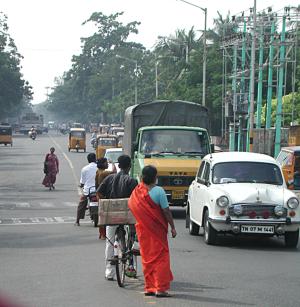 Of course, there is traffic contrl, always under the watchful eye of the local policeman - who all appear to enjoy eating and standing in profile, to demonstrate the results of their eating. Again, closely examine the traffic pattern (or absence). Real brownian motion.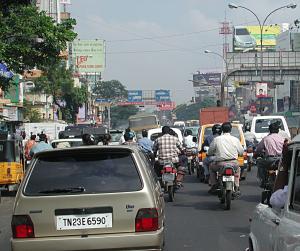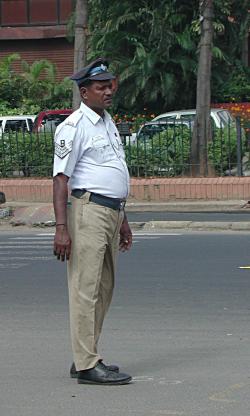 Then there is politics and movies - the two main sources of entertainment in Chennai. Shown here are different presentations of Her Bigness, the chief minister of Tamil Nadu - Jayalalithaa - a sometimes attraction at local entertainment centers. Whether politics or movies - the entertainment value is always the same.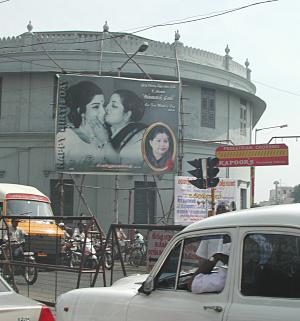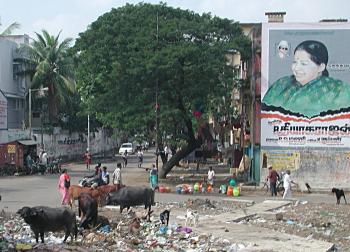 I particularly like the above shot - Its Christmas time, and it seems only appropriate that Her Bigness watch over her flock by night - simply to protect them from Veerappan, the forest bandit.

Indian politics is wonderful entertainment. Usually lots of words and unattributed pronouncements: the centre stated this or "he" stated unequivocally that. The high degree of intangible rhetoric, posturing, etc - compared with the absence of tangible strategies and results simply fills your day with chuckles and laughter. I noted this last January when Pakistan and India collided at the Kathmandu conference. Press descriptions gave vivid descriptions of Musharraf's statements - attributed to him. But Vajpayee? No attribution to any "real" Indian person appeared from my readings, with respect to the border tensions in the Kashmir region whereas there were endless attributions to specific Pak individuals. So great was the contrast in "reporting" and so absent was US reporting on this contrast, that you wonder where all our "objective" reporters were :). In addition, so little reference was made to the destruction of the Muslim Temple in Ayodhya (that, in my opinion, fired this latest increase in border tensions). We were residents here in 1993-1994 near the time of the Mosque destruction. So much made of the Taliban destruction of the Bhuddist statutes in Afganistan, but very little made of the Vajpayee complacency with respect to the Mosque and its replacement by a Ram Hindu temple.

The recent meeting of Putin and Vajpayee is a great example of this. As reported in India Today (Dec 16, 2002).

A reality check:
Upside:

"Putin's strong words against Pakistan's machinations, joint working group on terrorism, new delcaration to boost economic relations and convergence on Iraq."
Downside:

"Stagnation on trace, bottlenecks in defence deals, corrupt bureaucracy, strategic triangle with China seen as unrealistic, and racial violence against Indians in Moscow."

Note that the upside is all words while the downside is all deeds.

The unpleasant surprises - closing our account at BofA, and being told that the "cost" for inconveniencing us with the forced closing had just gone up. It was not enough for us to close our account, but now we had to pay some fees for this privilege. Hmmmm - If this reflects BofAs operating policy, then sell their stock - there operating costs are about to skyrocket!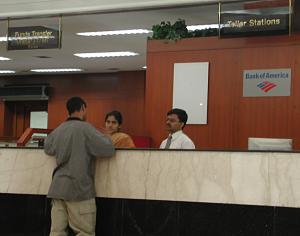 A Construction Symphony - Parallel processing at its best