Click here for information about the symposium
Getting there: Delta 72 from Atlanta to Milano and return on Delta 133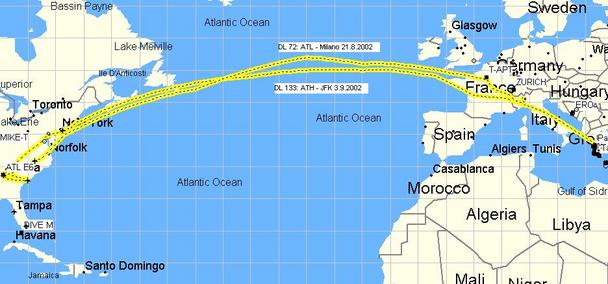 A view of the Alps - on the way to Milano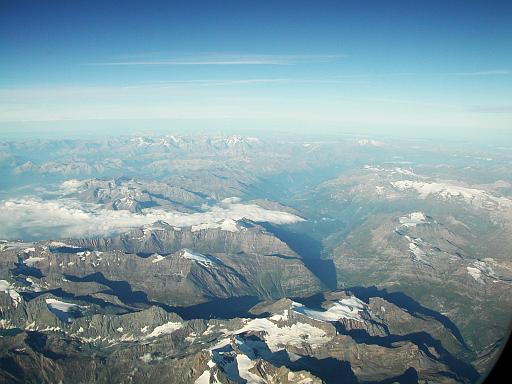 The BME Workshop
The sunrise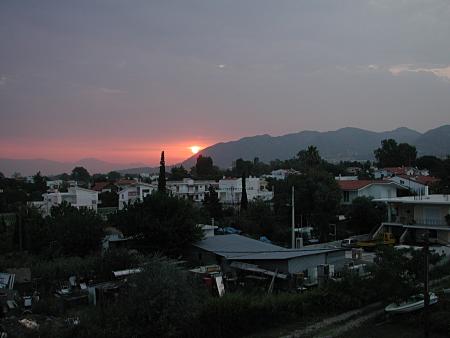 Tassos, Frank and the BME Workshop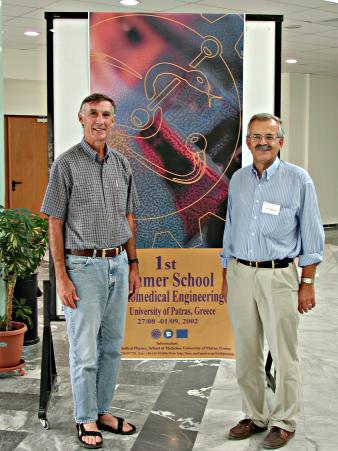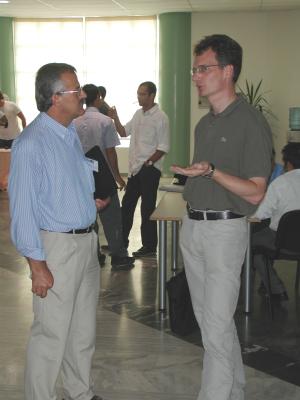 Nikos and Clinical Engineering Overview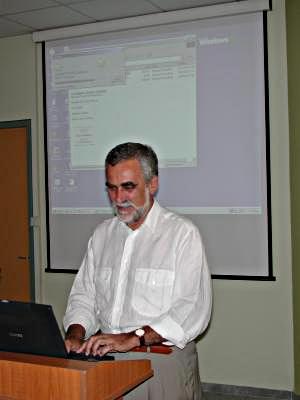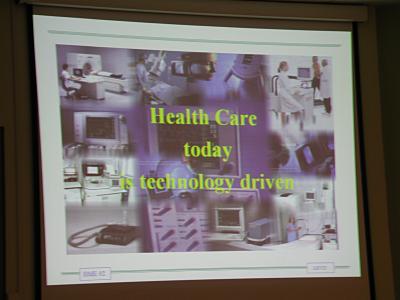 My Lecture and the roundtable discussion about life, BME careers and jogging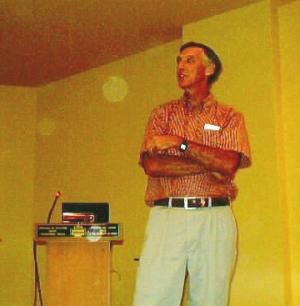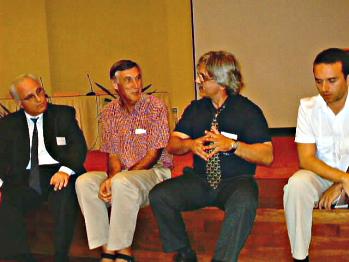 and here is the powerpoint presentation of my talk
Patras Biomedical Engineering Workshop - thoughts about being a biomedical engineer or HTML Presentation of ppt
Work and Play: Kalogria (studies of bioluminescence), Nafpaktos, Rio and Patras
Kalogria, Olga, Radu, Misha, Laura and Ovidiu: a day of swimming, and diving and underwater photos, and big blue medusa(s) (jelly fish)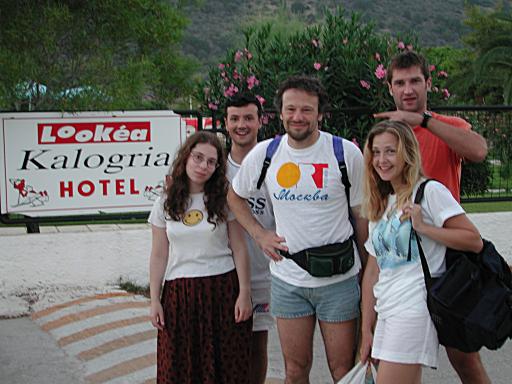 and a flying man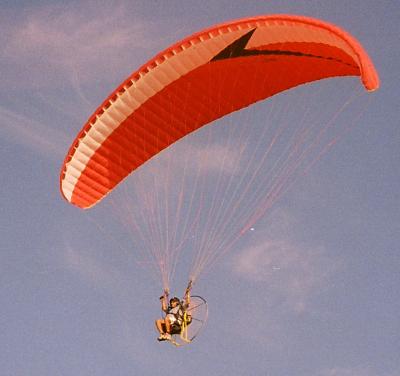 Ovidiu
And the very interesting blue medusa - they appeared white with faint blue tint, as seen on the right - but I used a flash (left) - and perhaps the camera flash excited a fluorescent component? Click for more insights into bioluminescence and here for insights into calcium imaging with fluorescent markers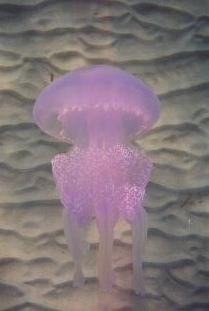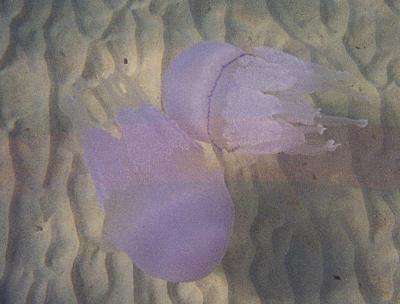 Another great sunset over the sea grass at Kalogria s flash, and bez flash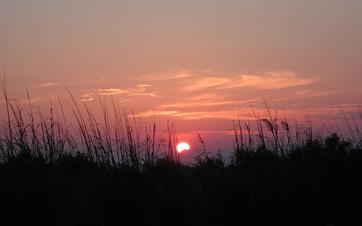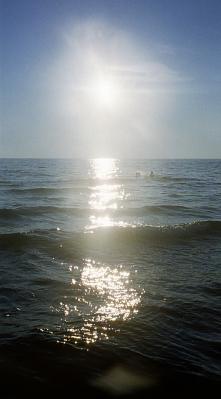 Rio
THe next day Ovidiu taught me how to identify clams buried in the sand - two small holes - which you dive down to and start scooping out the sand under the clams until you catch it. The problem was to prepare. So we went to our favorite taverna, Olympia, for advice from our professor.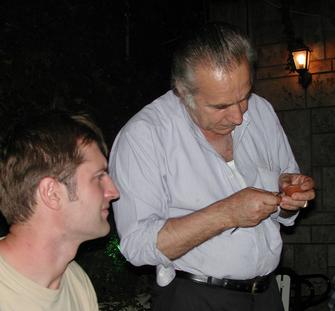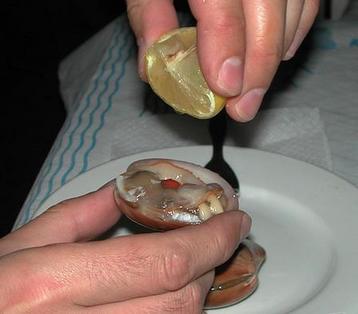 and of course, always nice sunsets to look at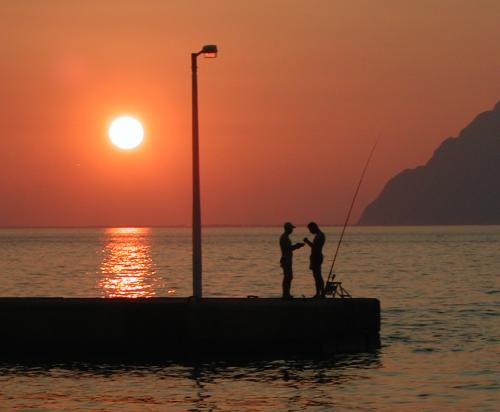 To Nafpaktos and beyond
The next day, a bicycle trip to Nafpaktos - sort of: Ovidiu and Radu but there were challenges and so we did not leave until Sunday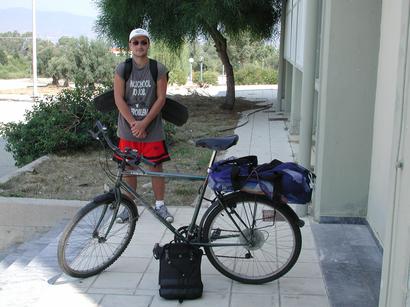 A reunion with my old bicycle from my Fulbright adventure (now Alin is the caretaker)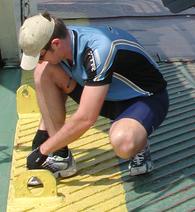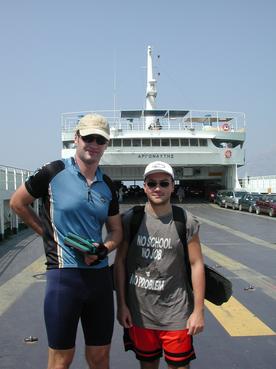 Last minute preparations, and our team is ready to leave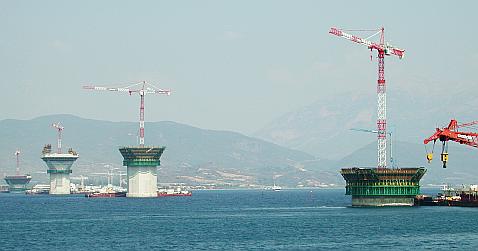 Work on the new cable stay bridge between Rio and Antirio - and fishing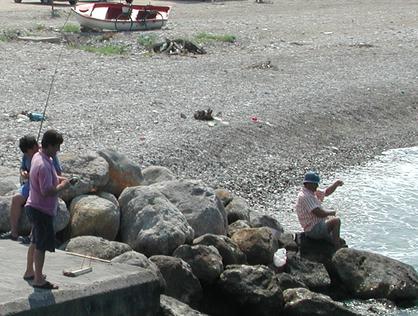 There are new sights (the building of the new bridge) and old sights (fishing at the ferry docks)
We took the ferry from Rio to Antirrion by ferry and enjoyed the local folks and entertainment and then started our trip to Nafpaktos, about 15 km away - then another 10 km to the beach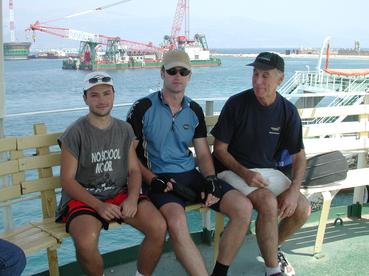 And entertainment: people watching and music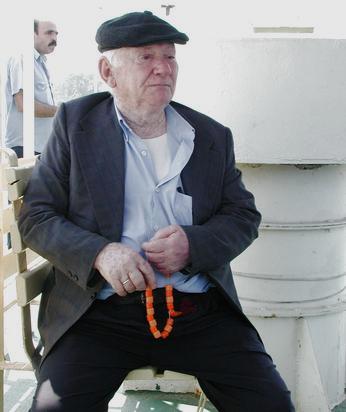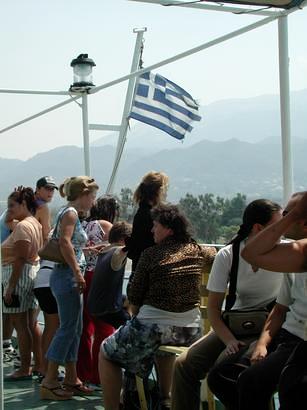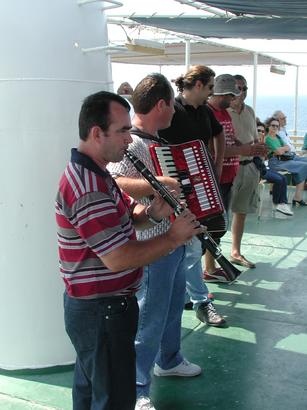 Then we started serious bicycle motion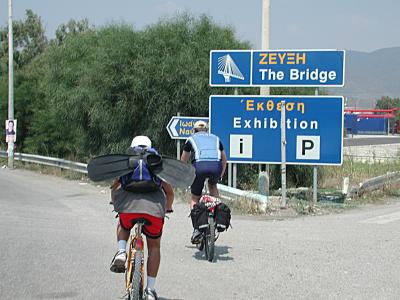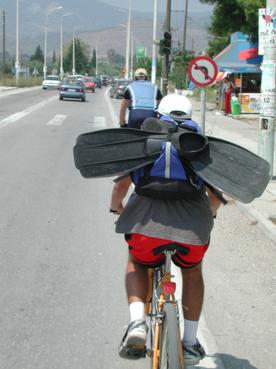 We reached Nafpaktos, and stopped at the small harbor for lunch, and saw the same "thing" swimming in the water that I saw in 1997 - but don't know what it is?
The harbor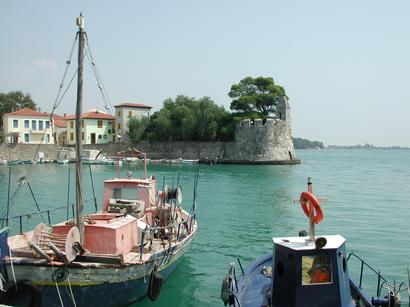 The castle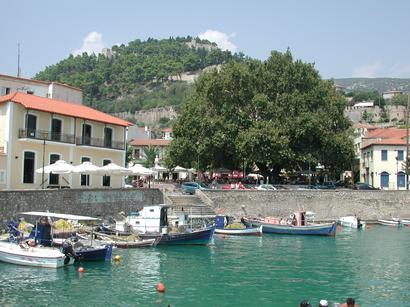 The thing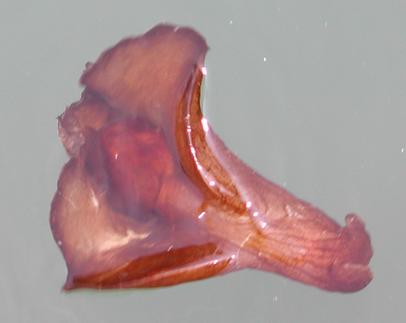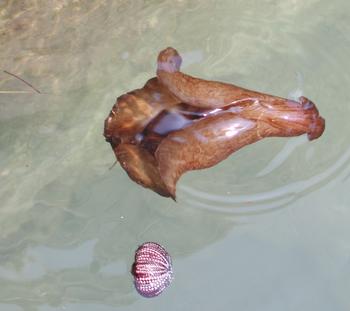 We continued for another 12 - 15 km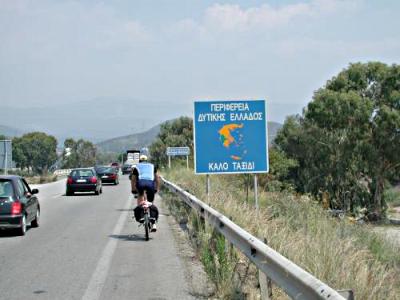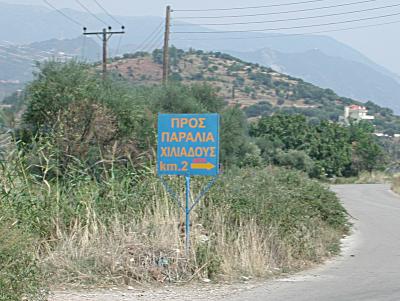 And so we arrived at our beach, warm clear water and interesting sea animals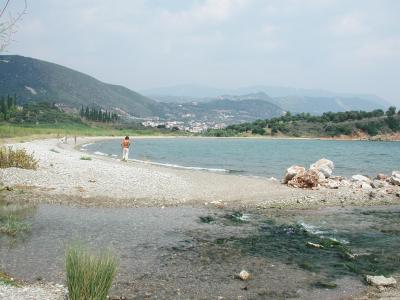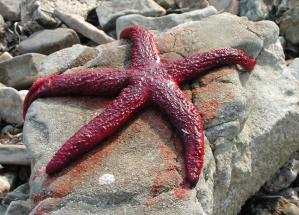 Looking underwater: Ovidiu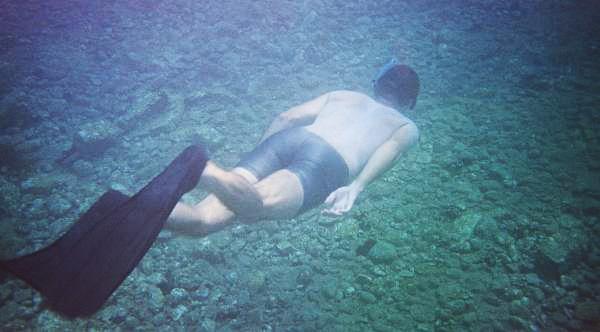 And interesting orange medusa (jelly fish) similar to what we saw in Navarino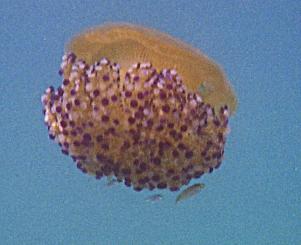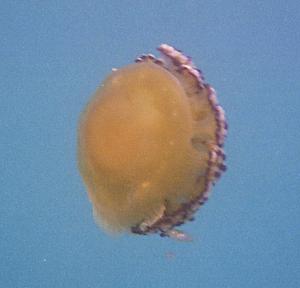 And returning home on the ferry - another sunset, with nice light on the lady next to me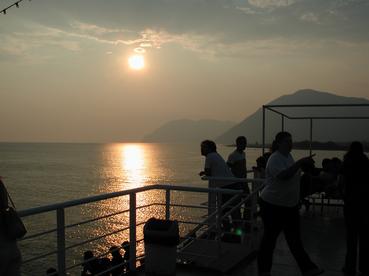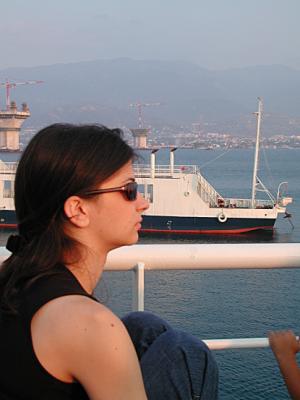 and the hospital / university in the evening sun and a sunset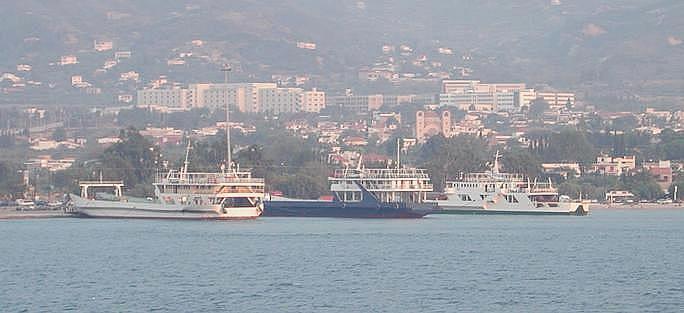 Some days were cloudy - but this made for a very interesting view of near sunset: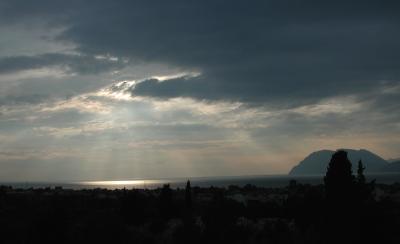 So - new group, last sunset, last dinner at our favorite place (Olympia), and next visit

Our group (Polish, Costa Rican, Romanian and 1 lone American)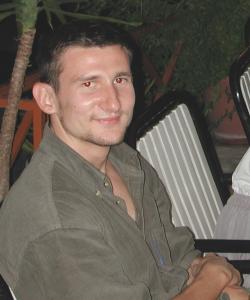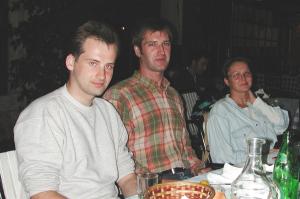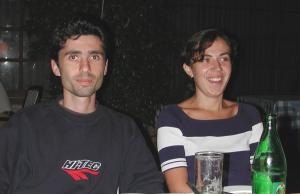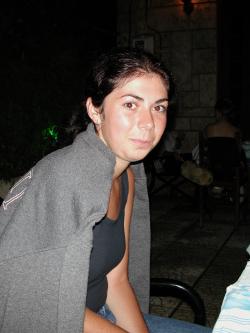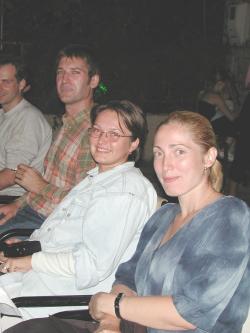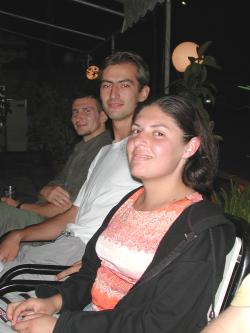 last sunset and Laura with the setting sun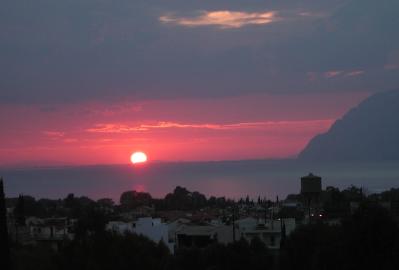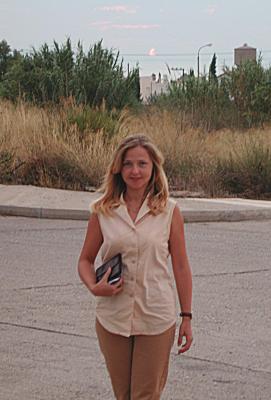 Copyright C. Frank Starmer 2002